Richmond Lacrosse adds second female team
---
---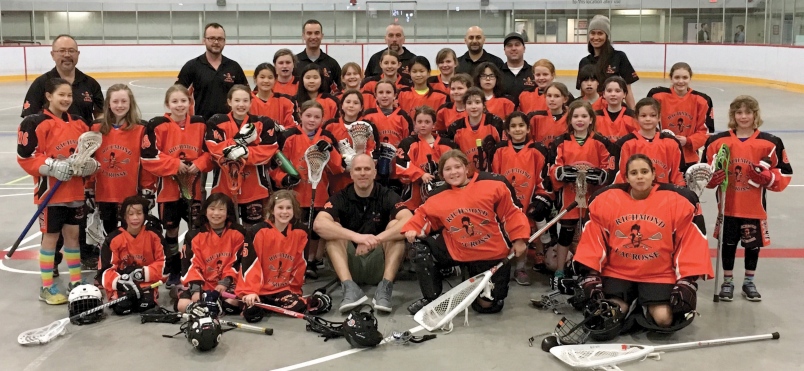 ---
As Canada celebrates its 150th year, it is fitting that participation in lacrosse —its official national summer sport — is growing in Richmond.
In particular, after many years without any female teams, Richmond Roadrunners Lacrosse now has teams competing at the Novice and Pee Wee levels this season.
Head coaches Sean Widdess and Jesse Cubberley — with the assistance of association president Glenn Jensen — have overseen the creation of a new generation of female lacrosse players in the city.
"It's so great to see girls come from all aspects of life including dancers, hockey, and fastpitch to now hear them say lacrosse is their favorite sport," said Widdess. "We are very encouraged to see the female league grow at the younger ages and excited to see how it will grow into the future.
The Roadrunners' female Pee Wee team was formed last season and has made tremendous strides since.
After winning one game in their inaugural campaign, the girls have already produced victories over Nanaimo, New Westminster, Peninsula, Port Moody, Ridge Meadows, Semiahmoo, and Surrey.
The Pee Wees were joined this season by a female Novice team. Despite all of its players being new to lacrosse and some even aging up from the Tyke division, the team has developed quickly with wins over Burnaby, Peninsula and Langley, and a tie against Semiahmoo.
While the regular season winds down for the Novice team, the Pee Wees are participating in playdowns in an attempt to qualify for B.C. Lacrosse's Female Provincial Championships being held in Port Coquitlam, July 6-9.
The Pee Wee team includes Adelle Larden, Brooklyn Widdess, Caeli Yamanaka, Cathy Hou, Chloe Jeffrey, Claire Murrell, Claire Pogor, Diana Mackenzie, Grace Murrell, Isabelle Chai, Izabel Taylor, Jenna So, Johanna Baskette, Katie Bollo, Kylee Esparbes, Isabelle Gudiel and Taylor Murrell.
The Novice team includes Addison Nixon, Adrianna Jeske, Anna-Marie Cubberly, Ava Teixeria, Charley Schuler, Erin Brown, Isabelle Wong, Kayia Uppal, Kate Jiang, Kenzie May, Kilah Hodder, Maria Barrable, Nina Trahan, Renee Pan, Sammy Fournier, Sophia Widdess, Syra Gill,and Talia Marvan
For more information on the Roadrunners and their programs visit the association's website at www.richmondlacrosse.com.
http://www.richmond-news.com/sports/richmond-lacrosse-adds-second-female-team-1.20572712