2019 - 10th Annual Richmond Romp Nov 8-11,2019 (U11 to U18) Information Page, Results, and Standings
---
---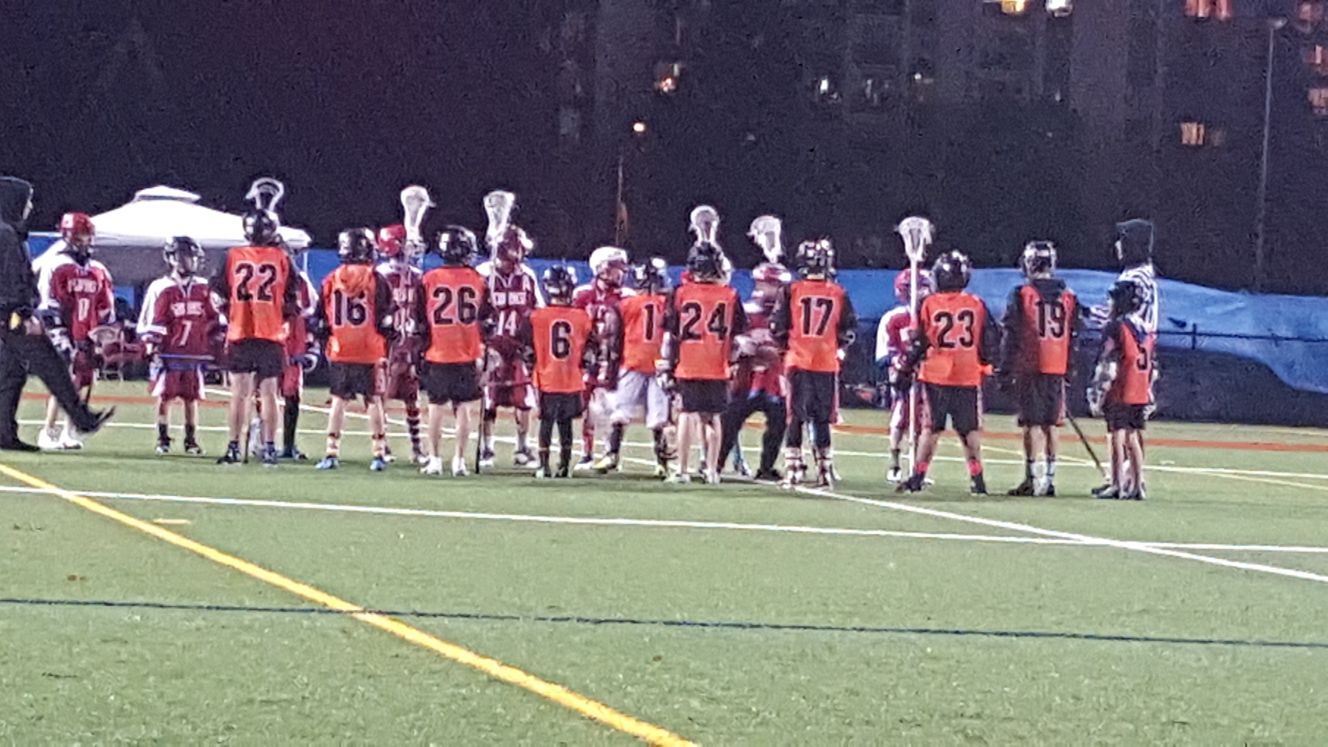 ---
2019 Richmond Romp 9th Annual
The Richmond Romp Field Lacrosse tournament is held the Rememberance day long weekend and has been running for 11 years starting as a four team jamboree back in 2008 it has grown to one of the largest events in Western Canada The tournament runs from Friday evening at 430pm until Monday at approximately 7pm for the last divisions finals
There will be both Tier 1 and Tier 2 in all divisions for U11 U13 and U15.
U18 teams will be a combined division as the Pacific Coast Field Lacrosse League does not tier for this division prior to the tournament.
Each team is guaranteed four games over the weekend with the finals happening on Monday afternoon. Every effort is made to avoid traveling teams playing on Friday evening
The tournament is held at Richmond's Minoru Park which has 3 turf fields and at Richmond High School with one turf field. At the bottom of this page has a showing of the map.
Information for the weekend. Rules and Field Map below
Click the below link to access our game schedule and standings
http://www.richmondlacrosse.com/tournament/716
Coaches or Managers are to check-in 30 minutes prior to your game whether the game is at Minoru Park or Richmond High. The last team that checks in will take the game sheet to the field. We have plastic folder to keep it in to keep dry should we have rain. The map attached shows where I will be and if you were here last year it is the same spot. Our new building is getting built this year and again construction site is off limits to everyone.
Sunday is November 11th and Richmond City Centre is very close to the fields so if you have games prior to noon access to the field will be to come down Westminster Hwy or Blundell to Gilbert and then to Granville to access the field from Minoru Gate. To access Richmond High access off of Blundell and Minoru Drive. Granville Avenue will be closed from Minoru Dr to Buswell. Also No 3 rd will be closed as the ceremony will take place on No 3 Rd at Granville.
Sunday being Remembrance day we will be taking a break at 11am to honour those that have served. The teams on the fields will be asked to remove their helmets and the referee will signal a moment of silence with two short blows of their whistle. This would be for the 930am games ending and teams warming up for the 1130 games. If in the park referees will be signal the moment of silence for the park please if not watching a game observe the moment of silence
We will be running a concession and BBQ over the weekend offering coffee and donuts/muffins for breakfast items and hamburgers and hot dogs throughout the day.Coffee will be available throughout the day along with other concession items. It will be set up between Minoru field 2 and field 3.
We will also be offering clothing sales and will have a couple of vendors at various times over the weekend.
Parking is a premium at our facility in part due to the construction and being a busy facility. PLEASE INFORM your parents to obey the no parking or 30 minute parking signs - bylaws will ticket you. There is additional parking available on Saturday afternoon, Sunday and Monday behind City Hall (access off of Minoru Blvd at Granvile)
Roadrunner Romp 2019 Tournament Rules
All games will be played and refereed under International Lacrosse Federation rules and CLA and BCLA Field Operating Policy. All players must be properly registered with their home associations.
Team officials are to report to the Tournament Check-in office (building in middle of field) at least 30 minutes prior to each game to verify game sheets:
Home Team, is responsible for supplying one person for timekeeping.
Visiting Team is responsible for supplying one person for scorekeeping.
All teams must be ready to start at the scheduled time. If necessary to stay on time, or catch up time, warm ups and breaks between half's (quarters) may be reduced at the discretion of the tournament committee.
4 . Game times for all round robin and consolation games will be four 15 minute quarters with a 2 minute break between quarters and a 5 minute half time. The last 3 minutes of all games shall be stop time if the goal spread is 5 or less. There is no mercy rule. An MVP will be selected from each team at the end of all games by their own team.
Points are awarded as 2 points for a win, 0 points for a loss and 1 point for a tie.
Ties breaker for standings will be determined as follows:
Most Wins
Fewest Losses
Head to Head (if applicable)
Least goals against
Least penalty minutes
Game rules for Semi-Final and Final games. Games will consist of four 15 minute quarters with a two minute break between quarters and a 5 minute break at half time. The last 3 minutes of the fourth quarter shall be stop time if margin is 5 goals or less at the 3 minute mark
In the event of the scores being tied at the end of regulation playing time, then overtime shall be played.
The following procedure shall apply:
There shall be a break of 2 minutes, during which the teams shall change ends.
The overtime period shall be of 4 minutes' duration (stop time).
If the scores are still tied at the end of the overtime period, then the following "sudden death" procedure will take place: with a break on 1 minute to change ends followed by 4 minute running time periods until a goal is scored for sudden victory
Only one time out allowed per team during the entire overtime periods
Fighting will not be tolerated and will result in expulsion from the game and for the duration of the tournament.
The tournament committee reserves the right to remove from the tournament any player, coach or spectator whom behaves in a manner considered inappropriate for a minor sporting event.
Protests:
Due to tournament time constraints, no protests will be entertained.
The referee call on the field is the final call.
Tournament committee decisions are final.
For more information contact tournaments@richmondlacrosse.com
The Event Centre will be Headquarters.
The Event Centre will have a concession, clothing sales and BBQ

The Event Centre will also be for Team Check In